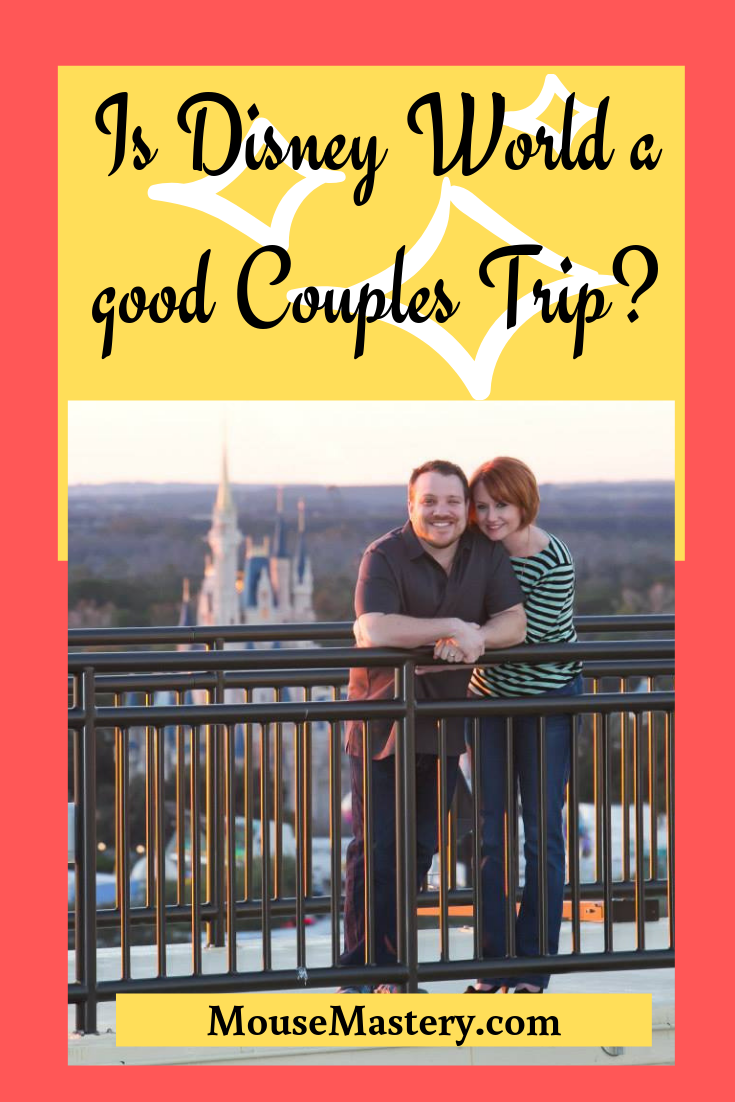 Disney World is actually a lot more than just a theme park – it's a destination, and it's one of the top vacation choices for adults. Even if you think "kid stuff" when you hear the words Disney World, anyone who has been to the popular attraction kids-free can tell you that it makes an amazing adults-only vacation.
Take it from me – we had barely spent time in Disney World when we got married and had our honeymoon there. The entire trip was kids-free for us, so we learned pretty quickly how much there was to keep us occupied, and we were pleasantly surprised.
If you're looking for a "Disney World for Couples" guide, then you've come to the right place. There's no end to the activities, events and unique experiences that are designed with couples in mind – you just have to look past the things that Disney World tends to be known for first.
Whether you are going for a trip with your special someone, planning your honeymoon (or even your wedding, but that's a whole other article!) or getting ready to take a Disney anniversary vacation, there are loads of activities to make your trip memorable and incredible. In fact, Disney devotes a whole section of its website to fun for adults!
So, if you're planning to head to Disney World with a couples trip, then take a peek at some of the fun that awaits you!
Magic Kingdom – There's just something about the Magic Kingdom that makes you want to ditch adulthood and leave your cares behind. Unleash your inner child with your partner by your side – sounds dorky, but Disney is really great for this.
Make reservations (ahead of time – as in 6 months ahead of time!) for a romantic dinner at Be Our Guest, or watch the amazing fireworks display from the Castle.
If you're into the history and lore behind how Disney World came to be, you HAVE to check out the "Keys to the Kingdom" Tour. It's a 5-hour journey through the history of the Magic Kingdom, including the famous "underground tunnels," and one of our favorite things we've ever done on a Disney visit. Make sure to save time by hitting our recommended rides for adults, so you can skip the other stuff.
Epcot – The World Showcase, located in the rear of Epcot, gives you the opportunity to experience international travel all in one place.
We love going  here to enjoy food and drinks from around the world, amazing shopping and fun, live entertainment. It's also home to the annual Epcot International Food & Wine Festival (and I have an update here on 2019). La Hacienda de San Angel at Epcot's Mexico Pavilion or Monsieur Paul in France provide  an incredible location to watch the fireworks display at night while you dine on delicious cuisine.
Check out our most-recommended Epcot restaurants for grown-ups and book some reservations.
Animal Kingdom – If you and your special someone are animal lovers (MEEEEEEEEEEE!) then you'll definitely want to make a visit to Disney's Animal Kingdom. Enjoy close encounters with amazing creatures and hold on tight to each other as you barrel backwards through Expedition Everest (pretty sure Steve has permanent dents in his arm from me).  They have some really great snacking and drinks, with great ethnic diversity in both. It's a treat to wander around, munch, and see the animals if rides aren't your thing.
The Animal Kingdom Park used to close strictly at sundown, but you can schedule a "Starlight Safari" and enjoy an adventure through the Savanna together at night. It's an amazing experience.
Hollywood Studios – Step into the movies with your sweetheart and discover Old Hollywood, all the way through present day screen icons. Slow down at some of our favorite restaurants there like the Baseline Tap House for some light bites and an adult beverage or two, or opt for some romantic fine dining at The Hollywood Brown Derby.
Disney Resorts – Disney Resorts are an experience in and of themselves – many couples will not even bother with the parks some days and just go resort-hopping. Many of the resorts offer select amenities geared towards adults, like a variety of lounges, spas, fine dining and more. Many of the resorts also offer special adventures like boat and bike rentals, fishing opportunities, and even a "Wilderness Back Trail Adventure," where you can explore Disney's Fort Wilderness Resort & Campground on a SegwayⓇ X2.
Disney Springs – When the sun sets in Disney World, for many that's when the second round of fun is just getting started. Especially on nights where the parks close up early, you'll want to head over to Disney Springs for nightlife, incredible eats, cocktails, live entertainment, and shopping. This nightlife hotspot features a wealth of unique date-night experiences that get you a touch of Disney with a dash of adulting.
Disney's Boardwalk – Located at Disney's Boardwalk Inn, Disney's Boardwalk offers another great option for nightlife, food and after-hours fun. Sing along with dueling pianos at Jellyrolls or dance the night away at the Atlantic Ballroom. This nod to turn-of-the-century Atlantic City is walking distance to both Epcot and Hollywood Studios. (You may even glimpse a wedding in progress at Sunset Point.)
Disney After Hours – These are special events that are held only on select nights of the year at the Magic Kingdom, Hollywood Studios and Animal Kingdom parks. You can enjoy 3 hours of nighttime fun and enjoy attractions with little -to-no-wait time when you purchase the special ticket. As these events are subject to change and only on certain nights, make sure to check out the latest updates before you go!
If you're planning a vacation with your significant other, don't forget to mention to the Disney cast member handling your booking that you are coming for a special trip, for example, a Disney anniversary vacation. You may be treated to some extra special surprises on your visit, like personalized menus, sweet treats or complimentary champagne. We have gotten things like this every time we've gone back and noted in our reservations (both room and dining) that we're celebrating our anniversary.
Disney does try very hard to make things feel effortless and magical, even if you're no longer a kid. It actually spoiled us, because when we'd take other trips, we REALLY noticed the lack of detail-orientation that makes Disney stand out for us. A trip there doesn't have to be hectic, line-waiting misery. It has all the relaxation, food and dining you'd get at many destinations, but is more easily accessible in many ways. Since they own the entire property, you can seamlessly move between experiences without the hassle of of other destinations.