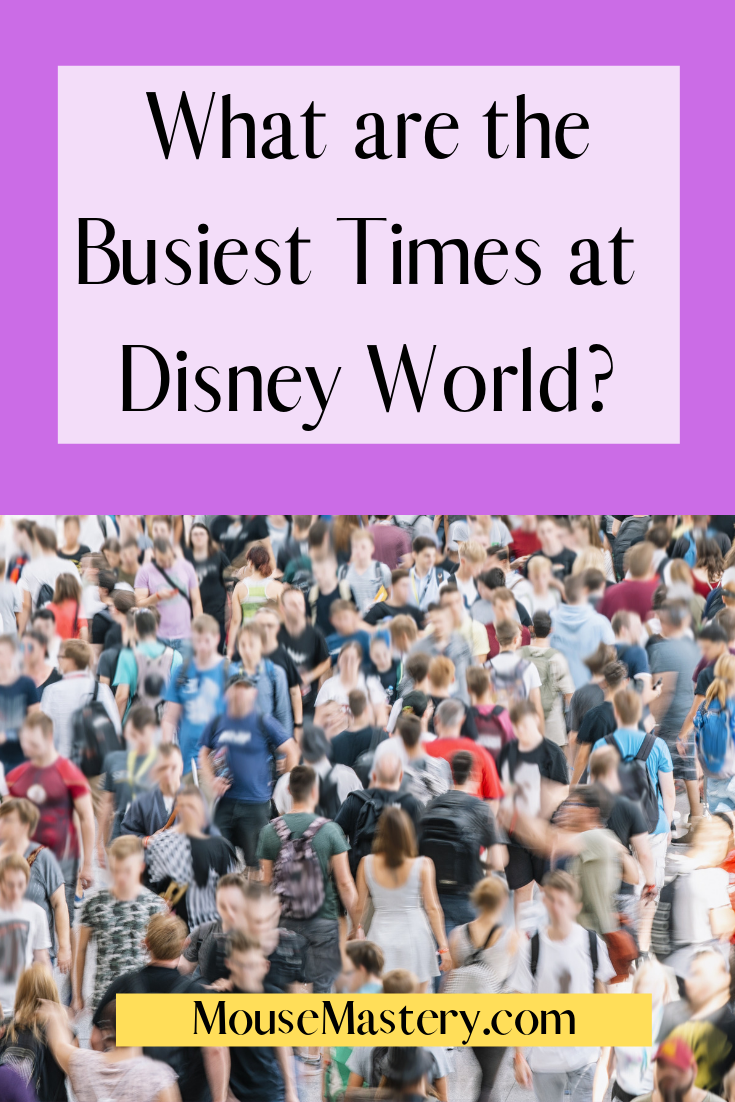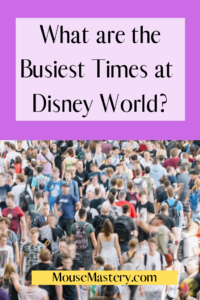 Short answer: these days, EVERY time.
I'm really only half-kidding. When we got married there back in 2012, you could reliably go in most times during January and February and have pockets of days where it was pretty dead. We have yet to experience that again starting around 2015 or so. It was INSANE when we went during that time. We took a somewhat spontaneous trip in August of 2018 and were shocked to find it was about the same crowd as we experienced in January/February times! We definitely notice a difference tied to how the economy is doing.
So basically, anyone who's been to Disney World the past few years will probably tell you that there's no such thing as "not crowded." Frankly, if you see or hear anything promising a certain time of year to be free from crowds, it's probably a myth or at the very least, wishful thinking. Unfortunately, there is no getting around the fact that besides being considered the "happiest place on earth," Disney World is also most likely the "most crowded place on earth."
Disney World's attractions, food, entertainment, and excellent customer service keep visitors coming back for more year after year despite the crazy amounts of people. The good news is, even with hoards of people flowing into the parks daily, there are still some times of year that boast slightly lower crowd levels than others. Just keep in mind when I say crowds are "low," it's relative to the fact there's always a lot of people there.
Oh, and as for those calendars floating around out there that try to pinpoint the exact least crowded times at Disney World, and the specific days to go to each park? I have found they just aren't very accurate these days.
The reality is, Disney World always has crowds.
If you can accept the fact that you will rarely experience Disney World without a crowd present, then you can still mitigate that by going when it's slightly less crowded. So, what are the busiest times at Disney World? The chart below can help you figure out the timing of your Disney vacation. I've listed it from busiest to least busiest time:
Disney Busy Days/Seasons
Crowd Levels
My Advice
Christmas/Holiday Time (including New Year's Eve!)
INSANE!!!!
Don't go.

Seriously, unless you really have to be there ON Christmas Day or ON New Year's Eve. New Year's Eve was so crowded at the Magic Kingdom in 2018, that Disney had to close its gates! It just couldn't fit any more people.

New Year's Day
Just slightly less insane than holidays and New Year's Eve.
Maybe arrive on this day if you absolutely need to. This is when a good chunk of the crowd that made Disney World burst at the seams on Christmas and New Year's Eve leaves, so it's slightly less jam-packed and you might be able to wiggle your elbows a little bit.
Spring Break (Easter) /
Spring
HIGH
Just prepare yourself for a lot of people. There might not be as many people as during the holidays and New Year's Eve, but it is still pretty crowded and wait times can be upwards of 6 hours for certain attractions. Take advantage of FastPass and extra hours as much as you can and maybe do some non-park fun on the weekends. It's also hard to pinpoint exact times when it gets busy, because different parts of the country give these school breaks on different weeks.
Presidents' Week
(mid-February)
HIGH
Okay, the beginning and end of February might not be too bad, but whatever week President's Day falls on? Not your best option. Especially if it happens to overlap with Mardi Gras week in New Orleans. That combo puts a whole lot of children on school break at one time which results in a massive amount of family vacations…and family vacations often mean Disney World vacations.

Another thing to be aware of in mid-to-late February is the Princess Half-Marathon. You get a ton of out-of-towners who come in, and they tend to make a long weekend out of it, so expect the 2 days before and the 2 days after to be higher-than-usual crowds for wintertime.

Competitions (i.e., sports
competitions, cheerleading and dance competitions, etc.)
Varies – try to avoid times when a large competition
overlaps with a time of year that is high up on this chart.
This is something that a lot of visitors overlook when they plan their trips. We didn't know about it when we had our honeymoon there, so we were a little surprised by the MASSIVE groups of girls in matching outfits that lined up 10+ in a line. The best thing to do is to check out the schedule, here. A bunch of competitions take place throughout the entire year, and some overlap with other times on this chart. The bulk of them are February and March. So, for example, if you end up planning a trip during Spring and a competition happens to be going on at the same exact time, you can bank on a pretty hefty crowd, and it's not limited to weekends. A lot of the competitions are on weekdays, and attendees make a long weekend of it.

If you plan a trip during the winter, and a competition is scheduled at the same time, it won't be as big of a deal if it's not overlapping the other times we mention here. Again, just know before you go and be prepared.

Thanksgiving
Slightly Above Average
Believe it or not, the days before aren't too bad of a time to take a trip to Disney. The best way is to arrive the Saturday before Thanksgiving and head out by Tuesday or Wednesday. If you elect to stay through Thanksgiving, but plan some non-park fun (i.e. resort hopping, putt-putt, Disney Springs) for later in the week.

Yeah, there might be less crowded options, but you get to see all of the stunning holiday decorations and have access to a few of the holiday events that start early before the insane crowds (and holiday rates) kick into full gear.

Summer
Average to Above Average
Okay, so summer is hit or miss, people. Kids are out of school, people take vacations, Disney World is a popular vacation spot. BUT – it's HOT. This deters a lot of people from going in the summer, but don't let that fool you into thinking the crowds are low. There are still a LOT of people at Disney in the summertime. The rates are not too bad at this time though, probably because it's so hot! But lower rates also pulls in crowds, so keep that in mind, too!

The worst times are generally June and July since ALL.THE.KIDS. are out of school. Schools in the south tend to go back mid-August, so push your trip to then if you can only really make it in the summertime. We were there one year for a day in July, and then in August in 2018 and definitely noticed a difference.

MLK and Marathon Time –
I'm listing these together because they are both weekends in January.
Average, to Slightly Above Average
The marathon participants will boost crowd levels on Marathon Weekend. Otherwise, once New Year's has passed, January is pretty light when it comes to crowds in Disney. MLK weekend will see a boost due to people enjoying a three-day-weekend, especially those visitors that don't live too far from the parks and locals that head over on their day off, but you don't find out-of-towners for long visits showing up for that.

The Disney Marathon dates vary each year, but you can check the slated date each year here.

Winter (between
Thanksgiving and Holidays)
Not too bad
This is a pretty decent time to go and not feel like sardines packed into a tin can. Just check out the competitions and events that are scheduled.
Columbus Day
Moderate
The crowds will bump up a bit for people enjoying a three-day-weekend (especially local folks that flood the park on their day off), but if this is the time you can get to Disney with your work schedule, it's not unbearable. Use FastPass, opt for Single Rider when it's available and try to hit parks mid-day when families with young kids might be returning to their resorts for a quick nap.
Early Fall
Not too bad
The weather is nice, crowds are not packed in, but they are there. This is a perfect time to take advantage of things like extra-magic hours, special event tickets, FastPass and such to help enjoy some low-crowd time.
Labor Day
Moderate
Basically, the same thing happens here as on Columbus Day. The crowds may be slightly higher with northeastern families visiting since their kids don't get into the full swing of back-to-school until after Labor Day.
Late Fall (excluding
Thanksgiving)
Nice
Okay, so this is early to late November, not counting Thanksgiving, and early December. One of the BEST times to go to Disney. Kids are still in school so you won't feel over-run by little ones, the weather is great, holiday magic fills the air, and if you snag one of those Mickey Christmas Party tickets for after hours? You might actually have a moment where you feel like you are alone in the park. Rare, but it could happen.
January (after New Year's
and Marathon weekend, and excluding MLK weekend)
LOW
If you want the least crowded time of year at Disney World, here you go. The bulk of January is pretty low when it comes to crowd levels if you avoid MLK and Marathon weekends.
This chart should give you an idea at a glance about busy days at Disney. When in doubt, always know before you go – it really sucks to plan a vacation and show up to a surprise crowd. It makes everything take longer than you thought to accomplish. Check to see what, if any, special events or competitions are scheduled in Disney World during your planned visit. These events will most certainly boost the crowd level while you are there, and probably drive up hotel prices while driving down availability.
If you're crowd-averse (totally us),  opt for one of these less crowded (but realistically still crowded) times. Truly, it makes a huge difference in the pace and vibe of your whole trip. I have oodles of other tips for maximizing your time and minimizing crowd, like Extra Magic hours for Disney resort guests, FastPass, apps that monitor wait times, single rider special event tickets are all great ways to experience more in your trip for the same amount of time.
Hopefully, this helps you get the ball rolling with your vacation plans! If there's anything else you want to know, feel free to contact me, and I'll be happy to answer any questions you may have! Do you have  go-to time that you swear by? I'd love to hear about it in the comments!