Disney World Trip Savings: Is Costco Cheaper?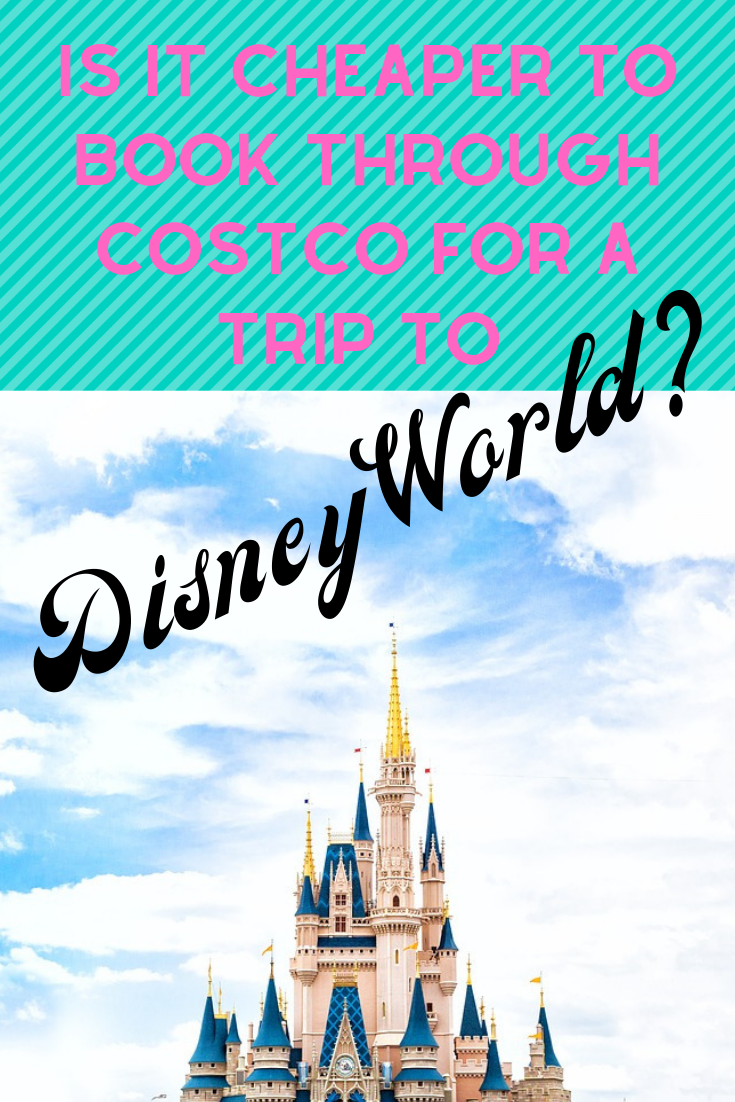 I get some great deals at Costco…but does that apply to Disney World trips?
While wandering out of Costco a couple weeks ago, we were standing in the line for them to check our cart. I noticed one of those huge signs for their travel offerings, and it was enormous photo of Disney. Obviously, it made me curious if their deals were cheaper than going to Disney World – don't be fooled, despite the fact Disney World technically doesn't offer advertised third-party-specific deals, it doesn't mean they don't exist. You just have to price shop.
I put this to the test.
Let's see what happened.
Comparing Disney World Rates vs. Costco
One thing that impacts your cost of visiting Disney is what time of year you go. The peak seasons (read: the ones where it's so crowded you couldn't pay ME to go there) are going to be markedly more expensive.
While this probably sounds like common sense, it's important in this comparison I did, because it involves comparing summer (peak) vs. a less-peak-but-prior-to-holy-crap-peak-time during the holidays. So, it's not a static environment, but that actually is what gave one of the major learnings you'll see here.
The first thing I tested was towards the end of summer. This tends to be slower when you look at the "OMG it's summer in FL, please kill me" spectrum. (You may still feel that way about the heat, but less so about the crowds.) Many schools down south have gone back in session (or are close to it), and the Food and Wine Festival hasn't kicked off yet, so it's relatively quieter.
Now, an important thing to note: Disney is running a summer special. So the rates are cheaper than the usual rack rate you would get. The deal only lasts until August 31st, so I deliberately picked a span of time where Costco showed availability in order to price compare. They offered it for Boardwalk Inn, so I chose that one for the comparison.
Note: I did not use Costco's offering to include a flight. This is strictly for a room with a 5-day ticket that includes the Park Hopper option.
Was Costco Cheaper Than Disney World in August?
Here's what I got for a 5-night stay including a 5-day ticket with Park Hopper in a Garden View room at Boardwalk Inn: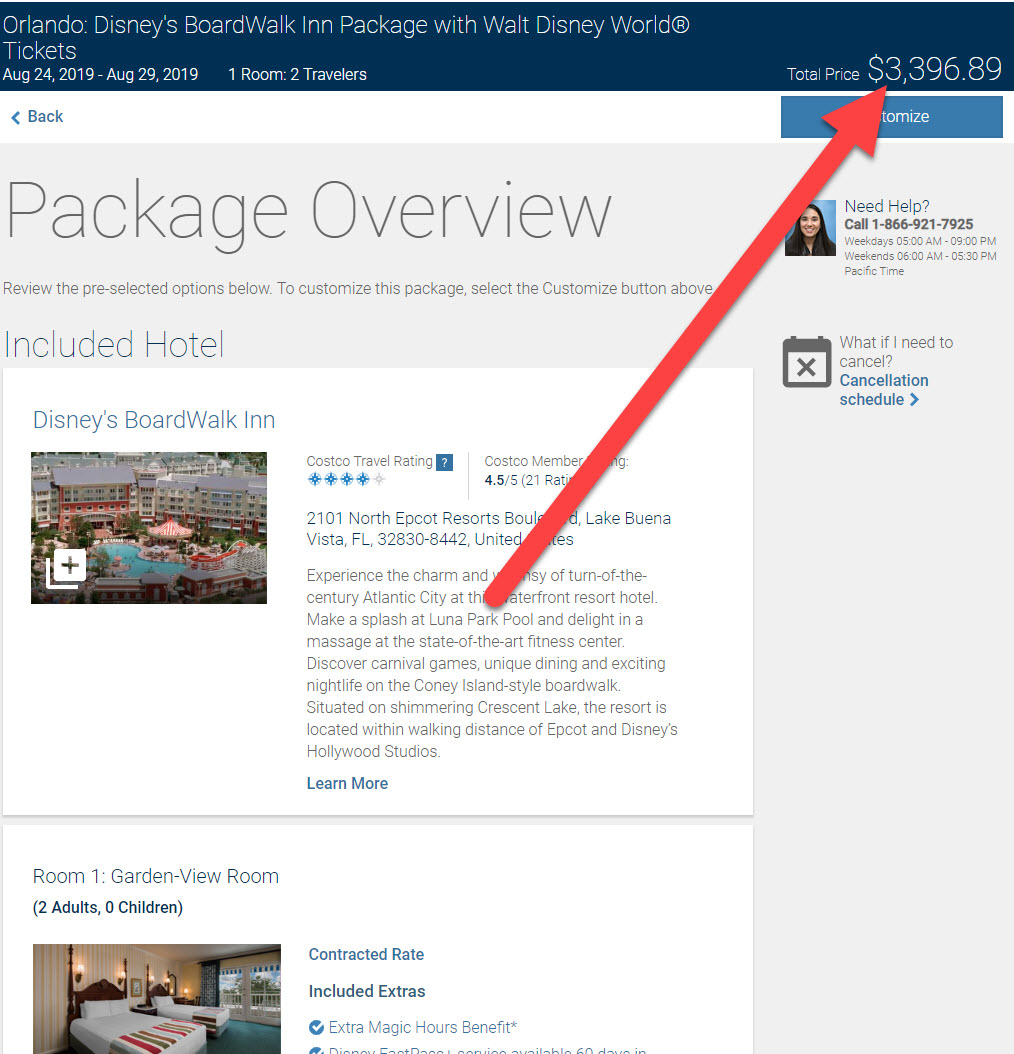 Then I pulled it directly through Disney, also with a Garden View Room and a 5-day ticket with Park Hopper, using their Summer offer that included a gift card of $20 per night spent, per room, in the form of a gift card. Here's what I got: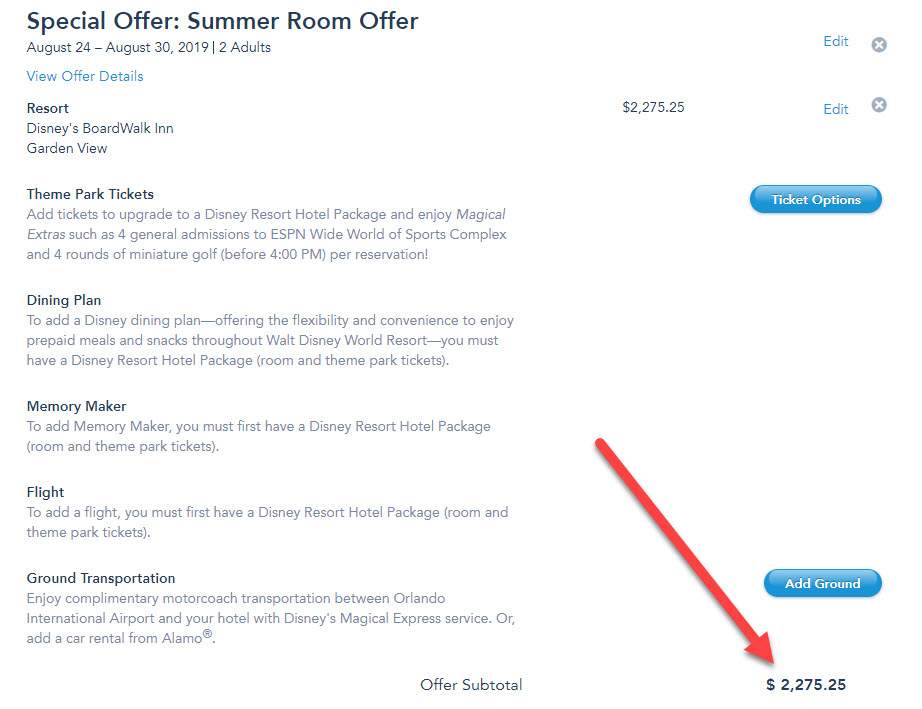 WHOA. Ok, so there are a few other things to include in this:
Costco perks: If you are an Executive Member, you get 2% back to use at Costco. If you have their credit card, you can also get 3% back on travel. This would mean a total additional savings of $169.04.
With the Disney gift card offer tied to this summer promotion, that's an additional trip savings of $100 that I'd probably put towards meals.
Bottom line:
Costco total: $3,227.85
Disney World direct booking total: $2,175.25
Wow, y'all.
Was Costco Cheaper Than Disney World in December?
Here's where things got more interesting. I redid the same things (Boardwalk Inn and a 5-day ticket with Park Hopper), but during December instead. They also didn't have the option for a Garden View, so this comparison is for the Standard Room.
Costco's total was this: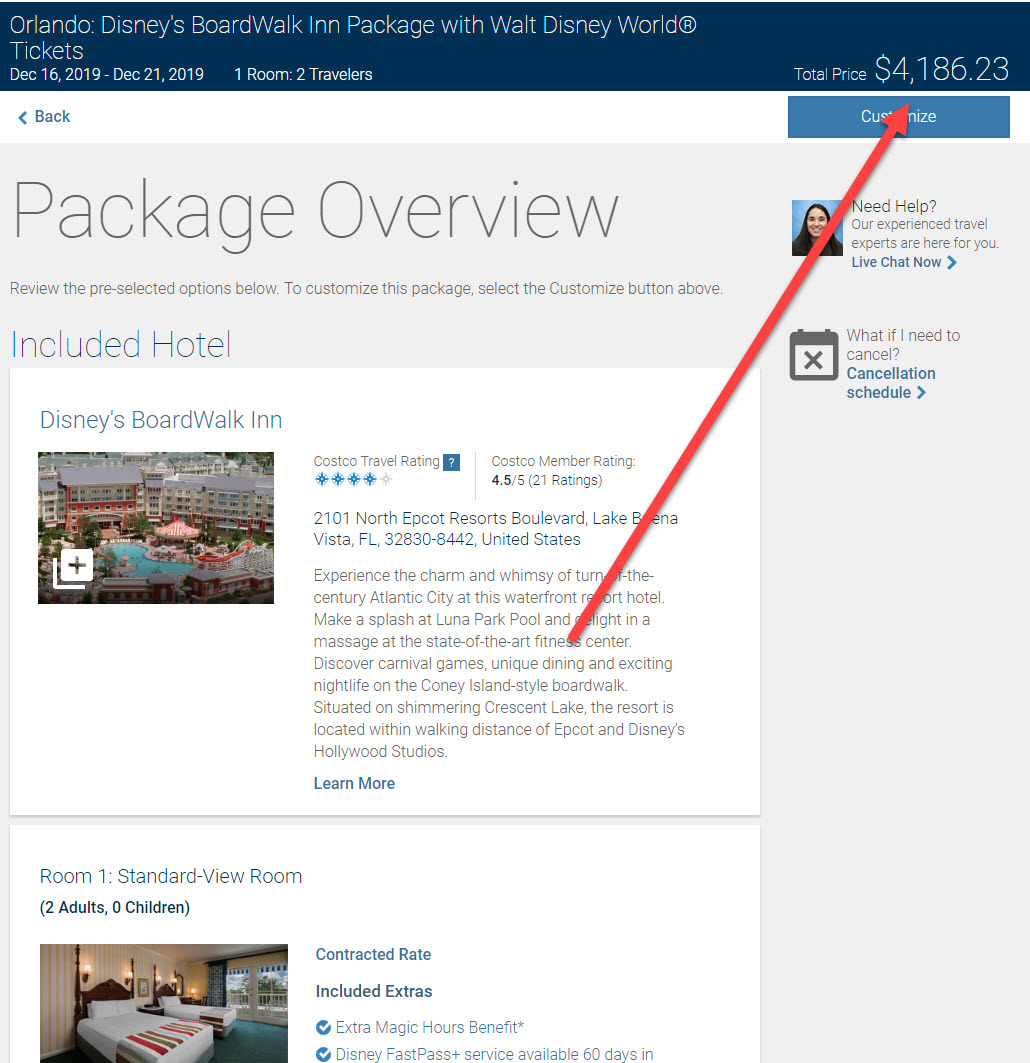 Disney World's total was this: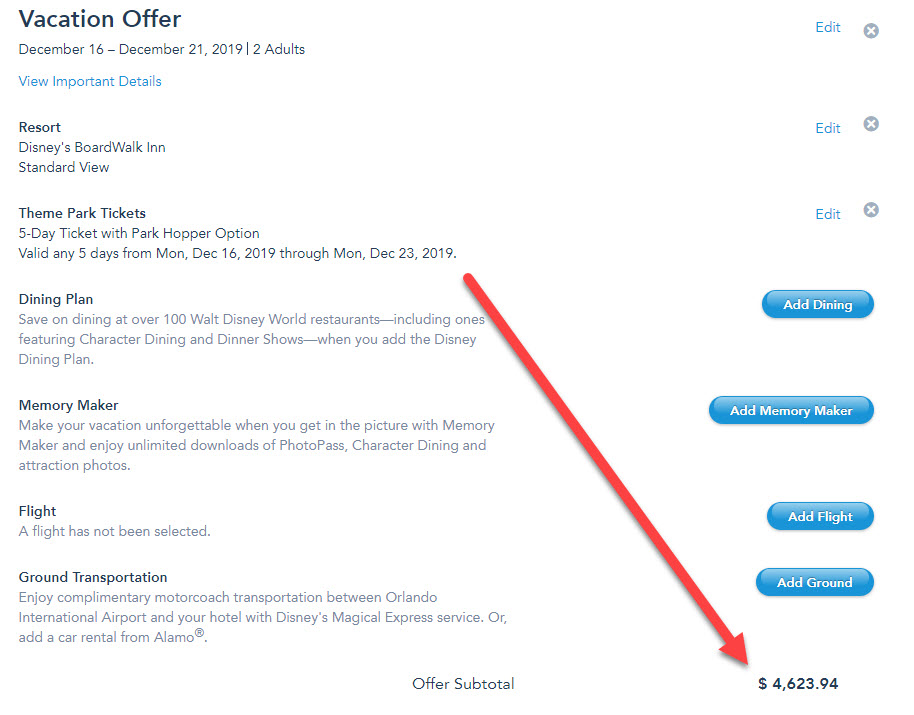 Disney isn't offering any additional incentives during this time, and their room was way more expensive! The possible Costco additional savings I outlined above would still apply, which would save another $209.31.
Bottom line:
Costco total: $3,976.42
Disney World direct booking total: $4,623.94
When Should You Use Costco Instead Disney World for Booking Rooms and Tickets?
There are some factors at play that here that go beyond simply cost. These are the things I would consider if you're a Costco member and are looking to use it to your advantage with a Disney World trip.
#1 Be flexible about dates – and not just for the reasons I showed above
As you saw above, the costs between these two options swing back and forth wildly. The outcomes are affected by seasonality and whether Disney World is offering any booking incentives or not.
The other part that isn't obvious here, but I certain experienced: there are a LOT of unavailable dates with Costco. Like, a lot. I checked a bunch of different combinations to find the two I used. It may be because grabbed those date slots months ago, but just be warned that using Costco probably means you can't be married to a particular set of dates.
#2 Be flexible about what Disney World resort you want
The majority of the on-property Disney World resorts aren't available through Costco. The only options I had were Boardwalk Inn, Saratoga Springs (which is actually DVC), Caribbean Beach Resort, and All-Star Sports. If all of those are a no-go for you, Costco would immediately be out of the running. (And, incidentally, only Boardwalk Inn is in my recommended list of resorts for adults.
As always, it'll take some time to compare when you shop around, but if your trip is inflexible, Costco is probably less likely to fit the bill for you. (Which pains me to say, because who doesn't want to buy 5lb of coffee, an outdoor rug and fresh crab legs all at the same place??)
Related Reading
Find out how to stay at a deluxe Disney hotel for a moderate price tag!
Does staying off-property at Disney World mean a better deal? Get the scoop!