This is an area where a LOT of folks get confused. I'm going to break it down for you.
Disney World Tickets
Base Ticket
This is the term used for essentially getting into a single park on one day.
You can purchase it for 1-10 days, and you do NOT have to use the days in a row. This is important to know, because if you don't plan on being in the park every day of your trip, you don't have to buy it for the full number of days you're staying in Orlando.
This is the most economical way to do Disney World, but it will mean picking one park per day and sticking with it.
Ticket Upgrade: Adding Park Hopper
This will add a fee onto each day of your stay, but you are paying for flexibility. This takes your base ticket but upgrades it by letting you go to multiple parks in one day.
Personally, Steve and I are fans of this. As adults, we have more stamina than trying to drag kids between parks during the day, so leaving one to go to another isn't a huge ordeal.
We also like it because it gives us options if a park starts filling up and we want to switch gears to somewhere with less crowds. It means we can show up, do our FastPass+ we might have reserved, and hightail it out if it's getting insane. (Magic Kingdom, I'm looking at you.)
How Much Do Disney World Tickets Cost?
It's going to depend based on three factors:
The number of days you buy
If you add Park Hopper
NEW in 2019: The dates you choose to go
Disney has moved from a flat-cost system to one that fluctuates based on dates, likely to help crowd control during busier times of year. They added a really handy calendar that will allow you to see how the prices change based on the dates you pick.
Let's say I want a 4 day base ticket in September of 2019. Here's what it will show me: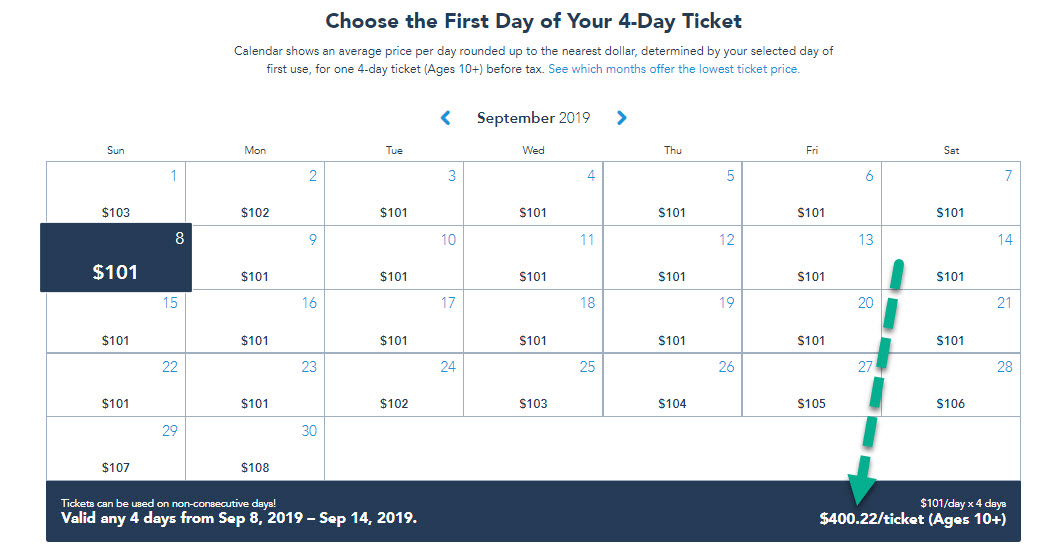 This might not seem helpful given that September doesn't show a lot of fluctuation, but you can see the differences during other times of year: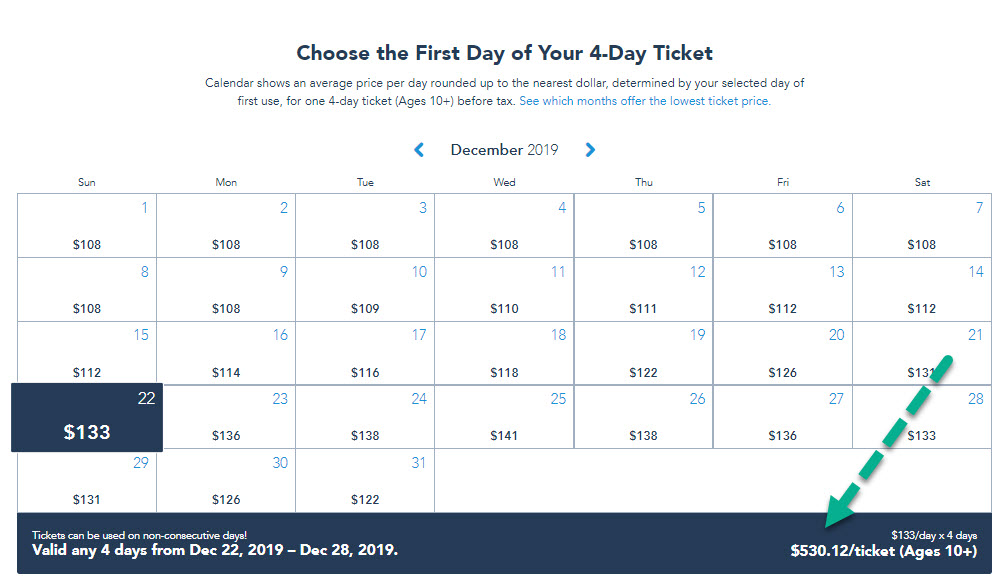 If you're open to going any time of year, this tool can help you save quite a few bucks! In our example, it's a $130 difference PER PERSON!
My Disney Experience App
Disney has a website portal that is also an app for your phone called My Disney Experience. You 100% need to have this. It will house all your ticket information, lodging, FastPass+ reservations, and dining reservations. It's an awesome little tool.
It also has things like park hours for the day, showtimes, and wait times for rides. It's a must-have.
If you purchase your ticket through Disney, it will likely tie it to your account automatically. If it doesn't, or if you purchase your ticket from a third party, you will need to pop in your ticket number once you're logged in to your My Disney Experience account.
What Are MagicBands? How Do They Work?
If you are staying on property at at Disney Resort, your Magic Band does pretty much everything you would need to navigate around and pay for things. It's a waterproof, adjustable bracelet that you wear, and it's tied to your My Disney Experience App.
Its functionality is different depending on whether you stay on-property or opt to stay off-property.
If you are staying on property:
You will automatically get a MagicBand for free that will arrive at your house a few weeks before your trip. You can customize by picking the color you would like, OR you can purchase one off Disney's site. They are reusable in the future, so if you want something with a little more personality, you can pick it and use it anytime you come back!
Your MagicBand will do the following:
board Magical Express (if you take it)
open your hotel room door
get you into the park
be used to redeem your FastPasses
charge purchases to your room
link PhotoPass pictures to your My Disney Experience account for later access
If you're staying off-property:
You will not get a complimentary MagicBand, and would need to purchase one either online, or when you get to the park.
Your MagicBand will do the following:
get you into the park
be used to redeem your FastPasses
link PhotoPass pictures to your My Disney Experience account for later access