The Disney transportation system is pretty amazing, and on the whole, it's straight forward for going to the parks. Where it gets confusing is when you have to get somewhere that doesn't have a direct method, like hopping between resorts. This sticks out as one of the things we became pros at over the years.
There are three main methods of transportation around Disney property:
Disney World's Monorail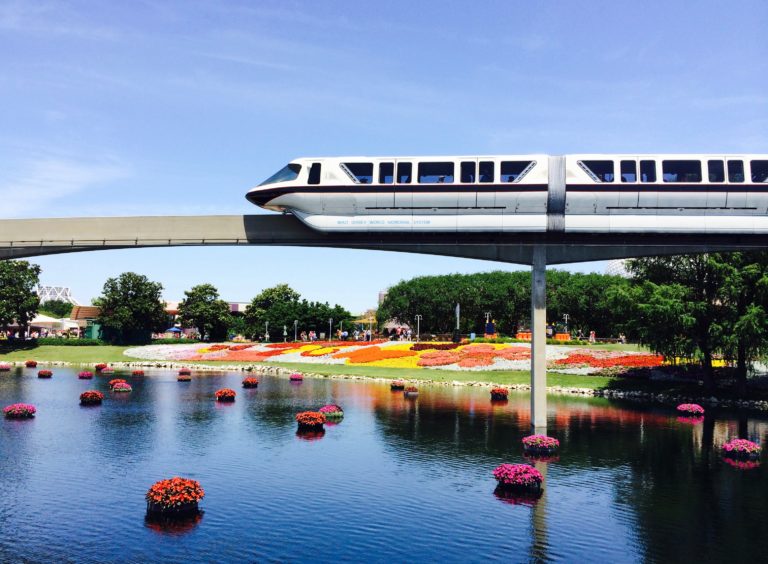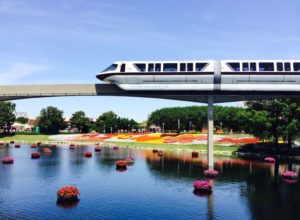 Even though it's the most famous form of Disney transport, it actually only services very specific routes.
It may feel a little confusing at first, especially if you aren't staying in a deluxe hotel in the Magic Kingdom area. But, there are really just two main monorail services:
one that goes in a loop around the Magic Kingdom area
a separate service back and forth from Epcot to the Ticket and Transportation Center.
The loop goes from Magic Kingdom around the Lagoon to the deluxe hotels there, with a stop between the Contemporary and the Polynesian at the Ticket and Transportation Center.
What is the Ticket and Transportation Center (TTC)?
The Ticket and Transportation Center is kind of a central nerve center for getting to all the Disney World parks. Buses go to Animal Kingdom and Hollywood Studios, and the monorail stops there for Epcot and Magic Kingdom riders. There's also a ferry option to get to Magic Kingdom.
If you want to get from Magic Kingdom to Epcot, this is where you take the monorail to, and then exit to walk over to the Epcot monorail.
Disney World Bus System
I'll be blunt: I hate the buses. Historically, they've had issues with long wait times and crowds amassing. They're actively working on improvements with things like screens that have ETAs for each bus and its destination, so it's gotten better. But, there's also the exhaustion and cranky family factor: after a long day in the parks, you get a lot of grumpy people on there and it's tight quarters.
Buses are available for every on-property Disney hotel to each park, as well as Disney Springs. They are also available to take you from one park to another.
Disney World Boats
We love this option. There's usually a nice breeze off the water, and it's a relaxing way to get from one spot to the next. The options for boats and where they go at Disney are varied.
Boats to Magic Kingdom
These operate on the Seven Seas Lagoon for the deluxe hotels there. One set of boats goes from Ft. Wilderness to Wilderness Lodge to Magic Kingdom, and then there's a separate route for the Polynesian and Grand Floridian.
Boats to Disney Springs
These run back and forth from the moderate hotels to Disney Springs. I really love these because it's a peaceful trip, away
from the frantic pace of the parks, plus a bonus: Florida is lush and beautiful to look at.
Boats to Hollywood Studios & Epcot
There is a loop that larger boats run from Epcot to the deluxe hotels there, and then over to Hollywood Studios. Epcot is close enough to its hotels that you won't need the boat for that, but it's nice to have to Hollywood Studios since it's a lengthy walk or a bus otherwise.
How do I get from one resort to another at Disney?
Buses do not go directly from one resort to another, so it can be complicated trying to get from one property to another.
If you're at a Value resort: Take a bus to Magic Kingdom, Epcot, or Disney Springs and transfer there.
If you're at a Moderate resort: Take a boat to Disney Springs, and transfer to a bus there. Or, take a bus from the resort to Magic Kingdom or Epcot, and transfer there.
If you're at a Deluxe resort: the Magic Kingdom deluxe resorts have monorail and boat options that will go to one another. If you are trying to get to the Epcot resorts, you can take the monorail system and walk through Epcot to the back entrance to reach them. Or, you can walk to the Magic Kingdom entrance, and catch a bus there.
The Epcot ones are within walking distance of one another. If you are trying to get to a Magic Kingdom deluxe resort, you can hop a bus to Magic Kingdom and take the monorail from the front entrance. Or, you can walk through Epcot to the front, and take a bus to the resort you want. You can also take the monorail system over from that area, as well.