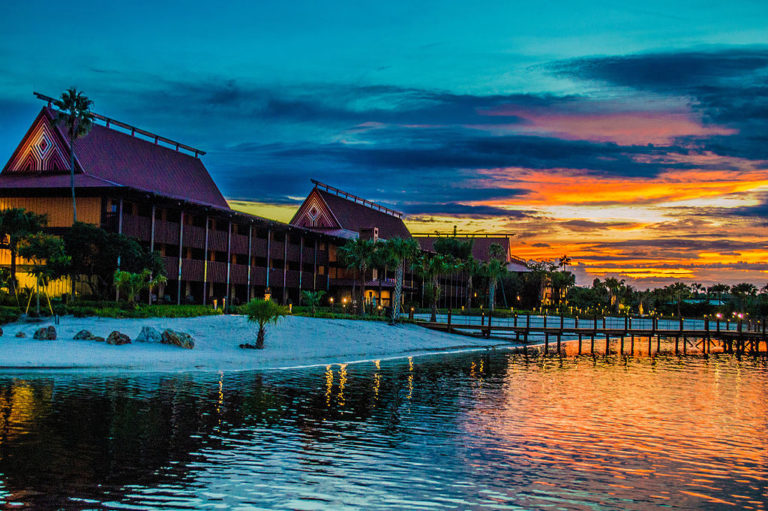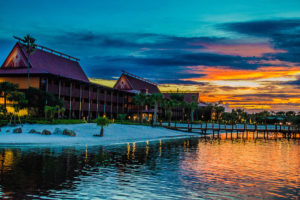 As I mention in the Start Here Guide for Newbies, I truly believe where you decide to stay will have a large impact on your Disney experience. I say this because we've stayed at several Disney hotels, and it truly shaped several pieces of our vacation, including things like customer experience, food and transportation options, and family/noise levels. There are marked differences in how insanely frantic some locations feel vs. others – it's largely driven by the amount of kiddos running around the place.
Staying On-Property at a Disney Word Resort
We prefer to stay on-property.
Why?
Because just getting around Disney when you're already on the property takes a lot of time – I don't want to add a shuttle bus trip to it, let alone one where there isn't a set timetable and I might be sitting at a stop for 40 minutes. I also don't want to deal with driving in and parking, and then STILL having to take transportation to the parks. This doesn't bother some folks, but man, it just gets on my last nerve.
I'd rather pay for increased convenience. Given what it costs to go on any vacation, late along Disney World, I value efficiency in my time there. Because everyone values different things and wants to allocate their budget based on that, I can't tell you definitively where to stay. 
That said, Disney World on-property resort rates are higher than off-property – but there are few things that could make it a no-brainer for you. 
There are quite a few things to consider that aren't part of your room rate, but are perks for booking on-property. These might be things you're willing to pay a little more for, so I can't stress enough to weigh these factors.
Magical Express Airport Transportation
Free transportation from the airport, with luggage delivery directly to your room included.
Let me make that clear: You walk off the plane onto the bus, and head to your vacation. DISNEY deals with getting your checked baggage, and they deliver it to your room later. This means no rental cars, no parking fees at the resort, no lugging things, no waiting at baggage carousels. It's outstanding. (And you get the same service going home, too!)
Off-property hotels largely do not have airport service (the airport actually isn't super-close to the parks), and they certainly don't have that blessed-be-baggage service.
Early scheduling for FastPass+
You get access to schedule your FastPass+ rides earlier (exception: for 2019 and 2020, you also get this perk if you are at a Disney Springs hotel or the Swan and Dolphin – both are technically off-property/non-Disney owned resorts). It's a lot easier to get the times you'd prefer, and even to get on some rides at all. This isn't a huge perk for us, because we tend to book our rides closer to when we're there. *shrug*
Early dining reservations for your entire stay
Starting at 180 days (aka 6 months) from your check-in date, you can start making restaurant dining reservations for your whole trip (up to a 10-day trip).
If you stay off-property, you can start at 6 months out, but you can only do it at 180 days back from the date you're there.
Example: 
I stay at a Disney Resort and arrive Apr 1, and leave Apr 7. I can start start booking on Jan 1 and book it for all dates I'm there: Apr 1-7.
Someone else stays off-property, with the same arrival and departure. They can book dining for the first day of their trip starting Jan 1. Then they'd have to wait until Jan 2 book April 2, etc.
Disney World's customer service is legendary
The customer service is phenomenal, and the pools and grounds are gorgeously maintained.
If you are planning on lounging by the pool a frequent amount and want to feel cut off from the rest of the world, their resorts do this beautifully. They are generally very large and immersive properties, so you feel removed from the hustle and bustle of every day life.
The one thing that frequently is hit or miss at the Disney Springs off-site hotels with the lower rates is stellar customer service, and also how well-maintained the properties are. Let's face it, it's largely families with rowdy kids staying there, so the rooms can really take a beating. It's also a place for most folks to just crash, and not spend ample amounts of time – however, as an adult, that may be different than your vacation.
Transportation options to and from Disney World parks
The type of transport (bus, monorail, or boat) varies based on the resort and where you're going, but this is another perk. You aren't paying for parking (yes, they charge you for it if you come in off-property), and you aren't having to park and catch a shuttle, etc.
You save a ton of time, and things like the boats and monorail give you really nice views. 
I hate shuttles. Hate. HATE. I can't stand being on an unknown timetable that's decided by a hotel. It's just compounded if it's hot out and you've walked miles around the Disney property. I like to know how and when I can get back to my room, thanks.
I have detailed the transportation options from each of our Disney hotel types, so you'll know the options. If you need an overview of Disney's transportation, you can check that out here.
Disney World Hotel Types
Disney World offers clusters of resorts in a few spots, and at three price levels: value, moderate and deluxe.
Value is a tough one because they cater to families, so this can be a turn off if you're going only with adults.
They're heavily themed cartoon-wise, and their only dining options is a main cafeteria. The rooms are really just meant to crash in after a long day in the park. They're still very clean, but are more utilitarian.
They are a great choice if you're going on a budget, want to be on-property and don't care about accommodations.
Moderates are a step up from Value.
The properties are themed, but usually less cartoon-y. You also start getting into sit-down restaurant dining options vs. just a cafeteria with quick service food.
The deluxe resorts are the best Disney has. (Which also means the most expensive.)
The hotels and rooms are themed tastefully, and their restaurants are frequently better than in-park options if you like fine dining. These are also the ones that are closest to the parks (sometimes within walking distance).
An often misunderstood and overlooked option is renting a Disney Vacation Club timeshare.
These are located in separate areas at the Deluxe resorts, and are like a small apartment, with a separate kitchen and living room. If you're looking at moderate or deluxe resorts, definitely price compare this option. I've gone this route several times and love it!
As mentioned above, there are some things to be aware of when renting off property. If the on-property perks don't float your boat, you have options with a few perks over at the Disney Springs hotels and the Swan and Dolphin!